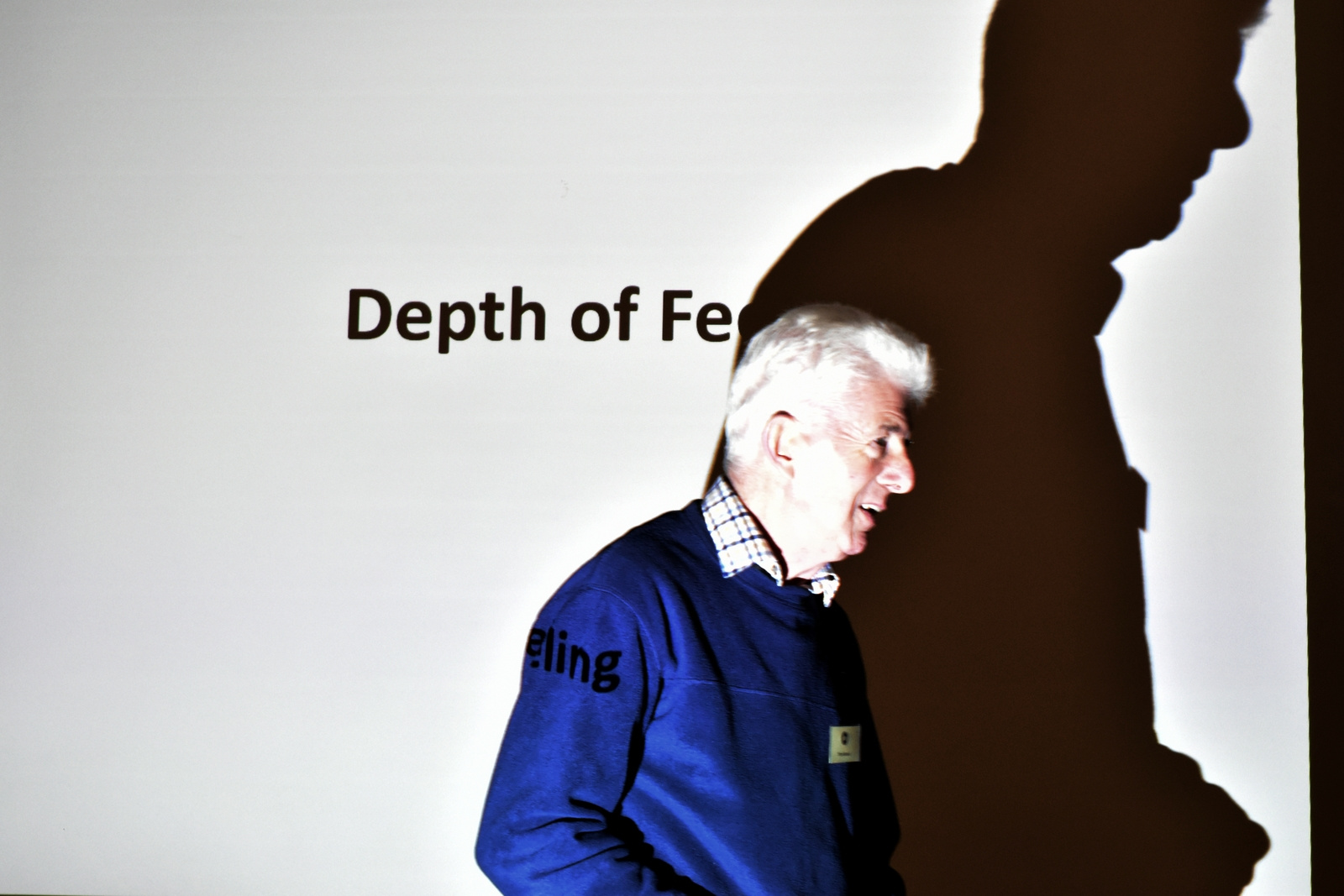 My popular illustrated lectures over a wide range of subjects
are ideal for any society or club setting.
Fee is £50 (under 20 miles) £60 (20-35 miles) from Saffron Walden Essex
per lecture to cover expenses........
Photography
Depth of Feeling-Introduction and discussion of my visual ideas and images
Life through my Eyes-Documentary ideas and projects explained
Reluctant Sports Photographer- How to stand out in this genre
Down in the Street-Explaining my vision and practise regarding Street photography
History
Station to Station-Railways A personal look at the West Anglia Main Line Cambridge to London
In Common-Focusing on this most interesting, disputed and varied areas of this country
A11 The Kings Highway- Highlighting the history and character of this under documented road
Lost Meadows- Searching for and finding lost habitat, as well wild flower meadow creation tips
My very popular lectures draw on my years of experience, passion and know how,
from my photographic archive and engage with an audience in a structured yet helpful way.
Questions are taken throughout the lecture.
To book contact us
Diary 2019
February 21st Station to Station Great Chesterford
Past Lectures
2018 Enfield Camera Club
2018 Welwyn Garden City RCTS
2018 Elsenham Historical Society
2018 Barking and Ware Camera Club
2018 Hertford and Ware Railway Society
2018 Royston and District Local History Society
2018 Hitchin RCTS
2018 Bottisham Camera Club
2017 Chelmsford Museum

2017 Edmonton Camera Club

2017 Chingford Photographic Society

2017 Godmanchester Photographic Society

2017 Stevenage Photographic Society

2017 Nazeing History Workshop

2017 Stowmarket and District Camera Club

2017 Manuden and Berden History Society

2017 Station to Station Takeley Historical Society

2017 Depth of Feeling Loughton Camera Club

2017 Publicity and Publishing Essex Authors Day

2017 Station To Station Manuden and Berden Historical Society

2017 Depth of Feeling Stowmarket & District Camera Club
2016 Depth of Feeling Swavesey Camera Club
2016 Take a Trip Bishops Stortford Railway Society
2016 Life Through My Eyes Enfield Camera Club
2016 Take a Trip Waltham Abbey Historical Society
2016 Echoes Wendens Ambo Society
2016 Echoes Hildersham Historical Society
2016 Depth of Feeling Glemsford Photographic Club
2016 Echoes Saffron Walden Museum Society
2015 Depth of Feeling Bishops Stortford Camera Club
2015 Depth of Feeling Enfield Camera Club
2015 Depth of Feeling Bury St Edmunds Photographic Society
2015 Depth of Feeling Saffron Walden Camera Club
Lecture Testimonials

Thank you very much for coming to Swavesey Camera Club to give your splendid talk "Depth of Feeling".
I know from my conversations with members in the coffee queue that if was very well received.
Your approach to photography is refreshing and certainly gave me some food for thought.
With thanks and best wishes.
Hugh Richards
Programme Secretary, Swavesey Camera Club
Dear Terry,
Thank you for your very interesting talk
Waltham Abbey Historical Society.
Jean Church
Really enjoyed your talk last night and I think you will note from the audience response
(one of the largest we have had recently) how well it was received.
I undertook my commute today with renewed interest and picked out several of the sites you highlighted!
Thanks again and with best regards
Graham Thompson
Takeley Historical Society
Thank you very much. Your talk was much appreciated.
I've forwarded the address below to our members.
Kind regards
Jeff Attfield
Manuden and Berden Historical Society
Everyone I have spoken to really enjoyed your talk.
Best wishes
David Pracy Nazeing History Workshop
Thank you so much for tonight's inspiring talk at Edmonton. Your enthusiasm
can across and I'm sure will have prompted our member to get out to take
photos for their own projects.
Cheers
Nick Clark
Programme Secretary
Edmonton Camera Club
Thanks for the talk, I for one really enjoyed it and I think most members enjoyed it and found it to
be a 'breath of fresh air' - so unlike any other speakers we have had. Thank you.
Regards
Angela
Stowmarket Camera Club
Thank you for a thought provoking talk this evening in Godmanchester.
I am a 'new' photographer who has lots of photographs that I have taken over the years.
I learned a lot this evening, not least, don't throw photos away or 'delete' !
Looking forward to looking at your website and hearing more about your exhibition later in the year.
Kind regards
Katy
Godmanchester Photographic Society
I just wanted to say thank you for the excellent talk you gave to us at the Stowmarket Camera Club the other week.
I really enjoyed it, it was like a breath of fresh air. You have certainly encouraged me not to get
too anxious about rules and technicalities, and trying to take the perfect shot all the time.
It makes it much more fun and adventuress when freed from these constraints -
and I really don't mind if I don't win any competitions!!!
All the best with your exhibition in Cambridge.
Kind regards,
Caroline
Stowmarket Camera Club
Thank you for the interesting talk you presented last week at Nazeing , very informative
Mike Wood

Many thanks for your email this morning and for visiting us last evening,
it was a most interesting talk with as you say a different perspective in the line.
Many thanks again for visiting us and for certainly being one of the clearest speakers we have had.
Best regards
Dave Elsdon
Hitchin Branch Secretary